Do Women Like Giving Blow Jobs? An honest woman's opinion
This topic, like many of my posts, has been requested by one of my followers who was interested in finding out whether women enjoy giving blowjobs or not. In response, my personal opinion is that there's never a simple yes or no answer to these matters because many factors are involved in women's preferences in performing oral sex. Such as, but not limited to:
Mood: sometimes we just don't feel like it, we're tired, grumpy, hungry, lazy, crampy, etc.
Personality: some women love to please, it's part of who they are, it satisfies them to pleasure their partners. Others hate it, simply put. And there are even women who are much more reserved, perhaps they believe oral is gross.
The level of skill: if you don't know how to do something, or you don't feel confident with your level of skill, you are much less likely to partake in the activity. For example, I'm a terrible baker, I f*ck sh*t up 90% of the time. Therefore, I typically avoid baking. Same goes for blowjobs gentlemen. If she doesn't feel confident in her bj skills, she's probably not going to be giving you much head.
How you smell: if you just showered and you smell all deliciously manly (mmmm) then getting a decent blowjob will be much easier as opposed to having sweaty b/o balls.
How you taste: some men just taste naturally good (probably thanks to the good ol' pineapple trick). Men who taste good are obviously more likely to get future bjs as opposed to guy's whose cum tastes bitter and makes you want to vomit.
How much they like you: It all comes down to this one really. If she likes you enough, she'll do anything to please you. You want a blow job? She'll say, "of course, dear!" Want her to play with your butthole? She will be much more likely to finger you in the a$$ if she really, really likes you!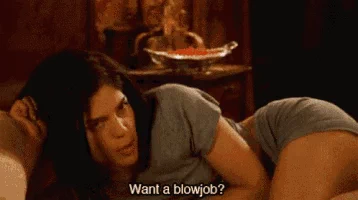 So, my very simplified answer to those wondering whether women like to give blow jobs or not is that some do and some don't. I am not a blowjob lover. I only do it to please my partner. Honestly, I'm a lazy lover, and even though I'm pretty decent at giving head, I also have a small mouth, which makes blowing a tad more difficult. I don't last very long.
I also have two very good friends who absolutely looooveee giving blow jobs. No, they are not single. They love pleasuring their partners and they enjoy the act itself.
Out of curiosity, I decided to reach out to seven girlfriends who I know are very open regarding sex. I asked them if they like giving head and why. The majority of the gals, 57% said they like to give blow jobs because it turns them on or because they enjoy pleasuring their partners. The remainder of the ladies simply said they don't like it, but they still do it every once in a while, because, "it's only fair" or "it boosts their performance" or "only when I'm super drunk".
Bustle has a really good article about various women's opinions on giving head and just as I explained, some love it, some hate it. Check it out it's quite entertaining –> 16 Women Share How They Really Feel About Performing Oral Sex.
Anyways, there you have it peeps! Short and sweet <3 More posts regarding blowjobs are in the works ;).