Intro to Threesomes: two gals and a guy
Ask any guy you know what their sexual fantasy is and I guarantee it's threesomes with two women because obviously what's better than having sex with a woman? Having sex with two women at the same time!
This task, however, is a tad more difficult to accomplish than men believe. First of all, where do you find a third? Couples who desire to have a threesome with another woman often reveal how difficult it is to find a "unicorn". A unicorn is a mythical creature; a single woman who is interested in threesomes. This term is widely used in the swingers and the alternative lifestyle communities.
So where does one find a unicorn?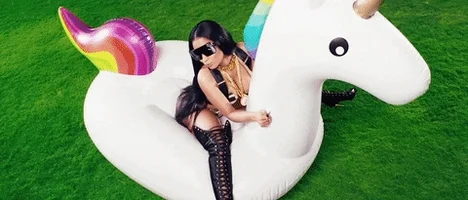 Most threesomes occur naturally, through friendships. With the help of booze people get comfortable and brave, thus are more likely to experiment sexually. So what typically happens is the women are friends, which is vital to a successful threesome arrangement.
Why do I say that friendship is essential? Because there needs to be trust in order for people to feel comfortable in the arrangement and trust that feelings will not get in the way. However, threesomes have the potential to ruin friendships and break relationships. Let's admit it, women are jealous and jealousy will destroy your well-being and your relationships.
What if you can't find a willing partner through your social connections?
Get on Tinder. Yup, it's actually pretty simple and I wish I would have known this tip a long time ago. So you simply set up your Tinder account, but specify in the description that you are a couple and state exactly what you are looking for such as: "Couple looking for another woman to join in on the fun for casual encounters". You're not there to trick anyone, you want to be specific as possible with you desires.
Once you get matched, you reach out and see if there is any interest. If so, you're in luck! However, there are certain things you must keep in mind before attempting an mff (male-female-female) threesome.
Rules:
Be clear about what you want as a couple out of the deal. Be as specific as possible so that everyone is on the same page and no one overanalyzes anything.
Always communicate with your unicorn together. No side conversations! That's where secrets start and things get messy.
Always communicate with your significant other. You have to be an open book about thoughts and feelings.
No Feelings! You have to put all feelings aside. If you like your unicorn too much, drop them or you risk a breakup.
Keep the relationship super casual; more like a one-night stand or a f*ck buddy than a friend. Once you build intimacy and a friendship, it can get messy.
Have a rotation of unicorns. This prevents attachment from developing.
Don't divulge private information about your relationship, your family matters, etc. Again you gotta keep it casual.
Always use protection. This is just common sense.
Check-in with your significant other after the hook-up. This will allow you both to communicate about the experience and make sure everyone is Ok. Sometimes we (especially women), like to keep it all in, but if we are allowed to share our feelings in a safe and non-judgmental environment, there's a better chance to be open and honest.
Don't stalk one another on social media. That's kinda crossing the line as innocent as it may seem. Many people in the alternative lifestyle like to keep their lives private, therefore they stay away from social media.
Positions
Double oral- just as you imagine. Guy gets head from both ladies at the same time because sharing is caring.
Doggy style with oral- this is probably one of the easiest positions for mff threesomes. One girl is laying on her back getting eaten out by the other girl. The girl who is giving oral is getting f*cked doggy style.
Double Cowgirl­- Guy is laying on his back with one girl riding his c*ck, while the other one rides his face.
Eiffel Tower- this would be the modified version considering there are two women. It entails one woman getting it missionary by the guy while the other woman sits on her face. This allows for everyone to be satisfied. You can also do this position while laying on your sides in a triangle-like manner.
These are the easiest and most common. However, many many more exist depending on your comfort level and how adventurous you are feeling. Maybe add a strap-on dildo for double penetration! Incorporate a cock ring or vibrator for additional stimulation and guaranteed orgasms. The possibilities are endless.
A heads up to men though, if you think it's hard to satisfy one woman, brace yourself. This can end up being double the work. Women also tend to get jealous so check-ins are vital to relationship well-being.
A very good friend of mine had his first threesome with his bisexual girlfriend and a girl they found on Tinder. They got along great, all was dandy until the event. What happened you ask? Jealousy happened. His very feisty girlfriend got pissed, she slapped the girl in the face and kicked her a$$ out. This led to a major argument, which was quickly resolved the following day once the couple reevaluated the events of the night. Once all parties calmed down, they reattempted the threesome with the same girl. The second time was a success!
So go out there, have fun, and good luck with your threesome adventures!